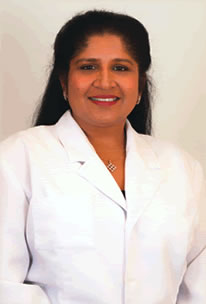 Dr. Shah was born in Nigeria but grew up in Ahmedabad, India. She earned a Bachelor's Degree in Microbiology at Gujarat University in India (1984). Dr. Shah continued her studies at the University of Bridgeport in Bridgeport, Connecticut, earning a Master's Degree in Biology (1991). Dr. Shah completed her post-graduate work at Indiana University in 1998, earning a Doctorate in Dental Surgery (D.D.S.) degree.
Dr. Shah operates her practice with the philosophy that patients deserve customer intimacy combined with the latest dental technologies. Her bubbly personality helps put you at ease if you are nervous about visiting the dentist. As a mother of three, she knows just how to interact with children. Dr. Shah's previous experience in providing dental care for nursing home patients throughout the state of Indiana has taught her how to better serve the senior community.
Dr. Shah is a member of the American Dental Association, the Indiana Dental Association, the Indianapolis District Dental Society, The Academy of General Dentistry, and the American Association of Women Dentists.
Dr. Shah is married and has three children: Neil (14), Sonia (10), and Jasmine (6).
In her spare time, Dr. Shah enjoys oil painting, cooking, gardening, interior decorating, travelling, and scrabble.